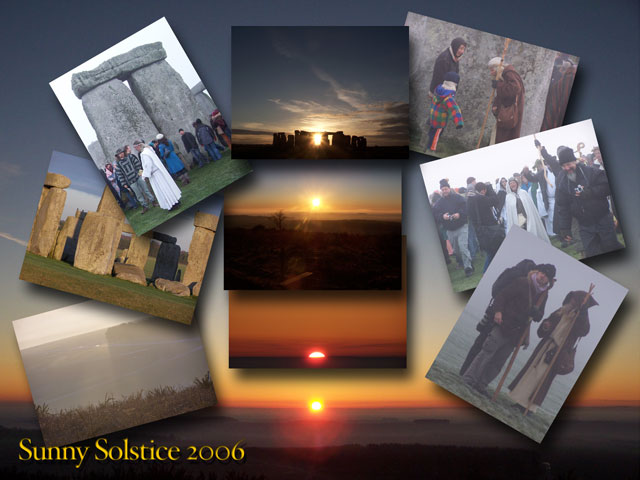 Larger version
Background image and two lower sunset pics are taken from Sidbury Hill on Wednesday on the solstice alignment back to Stonehenge, so you're looking directly back towards the monument from 8 miles away.
Handily, should you want to walk from Sidbury to Stonehenge, there's a stile and footpath exactly where the solstice alignment meets the crest of the hill (you can just make it out next to the tree in the centremost picture).
Lower left picture is also from Sidbury Hill, with a nice shadow from the clump of trees pointing the way.
Middle left picture is taken looking back from Stonehenge, through the centre of the monument, over the Heelstone on the same alignment towards Sidbury (not visible) and the topmost sunset is taken from the Heelstone looking towards sunset last Sunday.
The other pics are of various shivery pilgrims who came along this morning.
I'm hoping to get along to the vernal equinox, as I've an idea that the 6 equally spaced barrows on Kings' Barrow Ridge, when viewed from Stonehenge, might provide some kind of countdown to the equinox dawn - being as they are just slightly to the north of east as seen from the monument.
Kings' Barrow Ridge barrow spacing

(thanks to Simon Michel for doing the overlay on this one)


--
simon